GEORGE V. JOHNSON has had an incredible journey leading up to this recording and I have been a witness to the ride since the beginning in the 1970s. The title "Your Majesty" comes from John Malachi who mentored George when he was getting started with his vocalese. Not hip to John Malachi? If your listening to the music of George Johnson, you probably are, but just in case…  
John Malachi was born in North Carolina but grew up in Washington, DC. As a teenager he and fellow pianist Billy Taylor would check out Jelly Roll Morton at the Jungle Inn on U Street. One of his closest friends was Thomas Barrett, my wife Sondra's dad. John's talent was such that Billy Eckstine recruited him to be the pianist in the band he was forming in 1944 which included Charlie Parker, Dizzy Gillespie, Dexter Gordon, Gene Ammons, Art Blakey and Sarah Vaughan,. John gave her the name "Sassy".
He was an integral participant in the creation of bebop. I would be the fly on the wall listening to stories about Mr. B's band and the exploits of Diz, Bird and Dex whenever Tom Barrett and John Malachi would get together. 
 Around 1974 guitarist Bill Harris opened a club in Northeast Washington DC called Pigfoot where John would preside as the pianist to accompany such artists as Kenny Burrell, Al Hibbler, Arthur Prysock, Milton "Smitty" Smith, Clea Bradford, Frank Foster, Billy Mitchell, Leon Thomas and many more. He conducted workshops for aspiring musicians and vocalists. His prize student was a Metro bus driver named George V. Johnson Jr.
 I was broadcasting the New Thing Root Music Show on WAMU at that time and lived in the neighborhood of Pigfoot. Shirley Horn lived a few blocks away on Lawrence Street and Andrew White down South Dakota Avenue. Bill Harris's club was a center of jazz activity and George was in the midst of it. John introduced him to his close friends such as Art Blakey, Lou Donaldson and Eddie Jefferson. He would tape interviews that I did on the air with such prominent musicians as Dexter Gordon and others.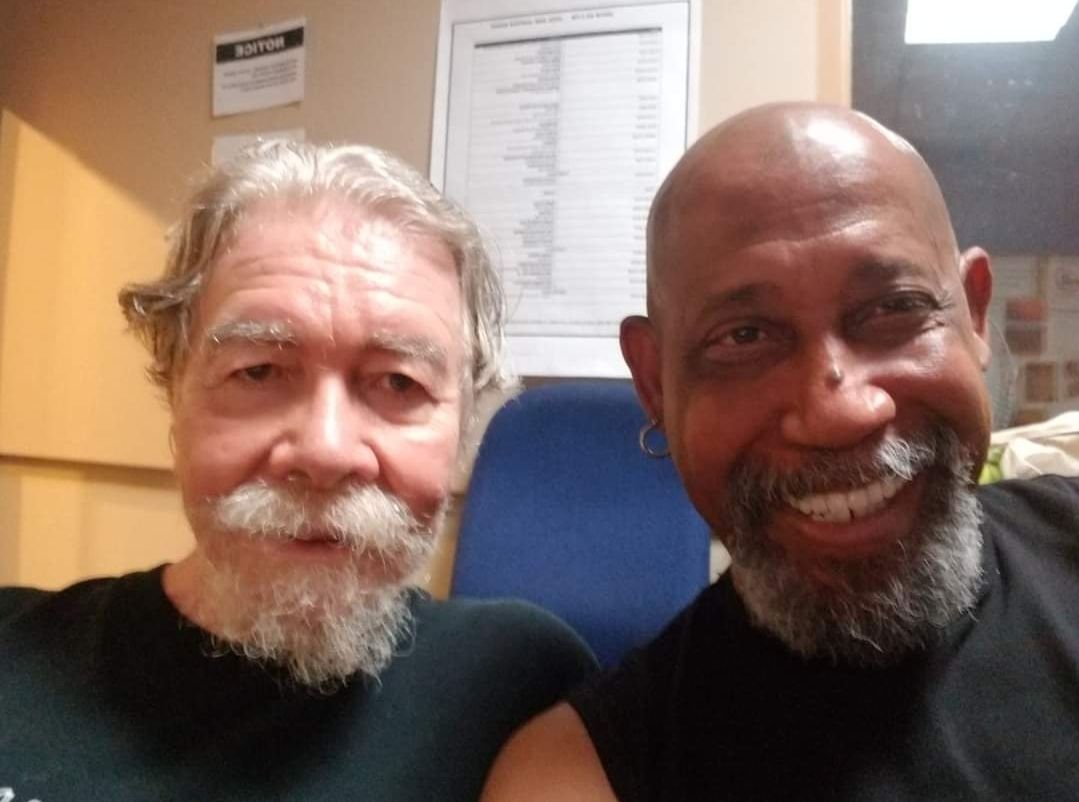 George and John developed such a close friendship that he introduced him as Your Majesty George V Johnson Jr "Opening Night" of his debut professional concert at the Pigfoot.
George made it his mantra and thus the title for this album.
 Under John's tutelage George was working on what is called in jazz circles vocalese, singing a lyric to what was originally an improvised solo by an instrumentalist. The father of vocalese is Eddie Jefferson who wrote and sang lyrics to James Moody's instrumental version of "I'm In The Mood For Love," later known as "Moody's Mood For Love." King Pleasure recorded and had a hit with it, but Jefferson gained recognition by recording and touring with Moody. Other singers who have utilized vocalese include Lambert, Hendricks & Ross and Manhattan Transfer. Jefferson performed frequently with Richie Cole in DC in the 1970s and when he heard George Johnson perform he was so impressed with his vocalese that he tagged him "Next in Line." 
George's journey took him to Europe in 1979 with a Howard University 6 month European tour of the musical "Raisin." It was while in Paris on May 9th that he received a telegram from Bill Harris informing him that Eddie Jefferson had been murdered in Detroit. Upon his return to the States and a tribute to Jefferson at Blues Alley, George took a train to New York and scuffled, frequently sleeping on the subway but catching as many performances as he could and making connections – Lou Donaldson, Harold Mabern, Barry Harris, George Coleman, Roy Brooks. Clifford Jordan, Jimmy Cobb, Benny Golson – the heavy hitters of the music. Leon Thomas introduced him to Pharoah Sanders who had him sing his original lyrics to John Coltrane's "Moment's Notice" on his album "Rejoice" in 1981. James Moody brought him into his group to tour 8 years in 1979.
 Another day gig, this time with New Jersey Transit paid the bills and supported his family while living in that state for the next couple of decades, all the while continuing to perform and write lyrics. Retirement from the railroad has allowed him devote full time to his music with a return to DC as his home base. (There was some time in Detroit, but that's another story for his autobiography.)
It has been incredible journey leading up to "Your Majesty" and as George opens "Gravy Train" all aboard for some great music. For this recording he has assembled some of the finest musicians from the Washington metropolitan area. Pianist Allyn Johnson provided the setting with his Divine Order Recording Studio and demonstrated his incredible chops on all of the numbers. He directs the jazz program at the University of the District of Columbia and is the most in demand pianist in the area. Donvonte McCoy is on trumpet. He has performed with artists diverse such as Lionel Hampton, Jason Moran and Aretha Franklin. Elijah Easton is the saxophonist whose youthful dynamism on the date demonstrates that the music is in good hands for the next generation. Herman Burney is the bassist on half the session; Steve Arnold on the other. Steve came to DC from Massachusetts to attend George Washington University. Herman was his bass instructor. Baltimore native Dana Hawkins attended Berklee and was the drummer with the late NEA Jazz Master Dr. Lonnie Smith and with Ravi Coltrane. 
The album opens with "Knarrative Will Set Us Free (Walk Spirit, Talk Spirit)" by McCoy Tyner. George's lyrics reflect on Knarrative, the Africana studies project to provide African Americans and the African Diaspora with quality curated information. It was inspired by DrGregCarr & Prof KarenHunter |  KNARRATIVE. Allyn takes McCoy's influence and then distills it into his own style. George demonstrates that he can make philosophy swing.
 "All Aboard The Gravy Train" is part of the lineage that goes back to Duke Ellington's "Daybreak Express" and James Moody's "Last Train From Overbrook." Lou Donaldson's contribution t the genre is certainly appropriate given the decades long friendship between the two and George's experience as a conductor. All Aboard indeed – it's a great ride!
 In 2003 DonSickler commissioned George to write lyrics to the music of saxophonist Hank Mobley. I remember it well because I collaborated on the project. George borrowed a number of my Mobley recordings, my contribution to his work. The 25 CDs have long been back in my collection, but George has completed writing words to over 40 of Mobley's compositions. "Squares Stay Out (No Room For Squares)" is from this important and extensive project presenting jazz vocalese. All of the musicians are in great form on this hard bop classic.     
 The journey continues with Wes Montgomery's "Music Round The World (Road Song)" and McCoy Tyner's "Come Fly Away With Me (Fly With The Wind)." Herbie Hancock's "Cantaloup Island" is the only song for which George did not write the lyrics but he sure does a remarkable vocalese with Mark Murphy's. Bird Lives on "Go Moose The Mooch," a bebop romp. John Malachi would be proud of what George Johnson has done to preserve Charlie Parker's legacy.
 "Jive Samba" was a big hit for Cannonball Adderly when his brother Nat added some funk to the bossa nova. George and the cats take it beyond Rio into the stratosphere.
 It has been quite a journey for George V. Johnson to get to "Your Majesty." Enjoy the ride he takes you through his music on this album.
Written by RustyHassan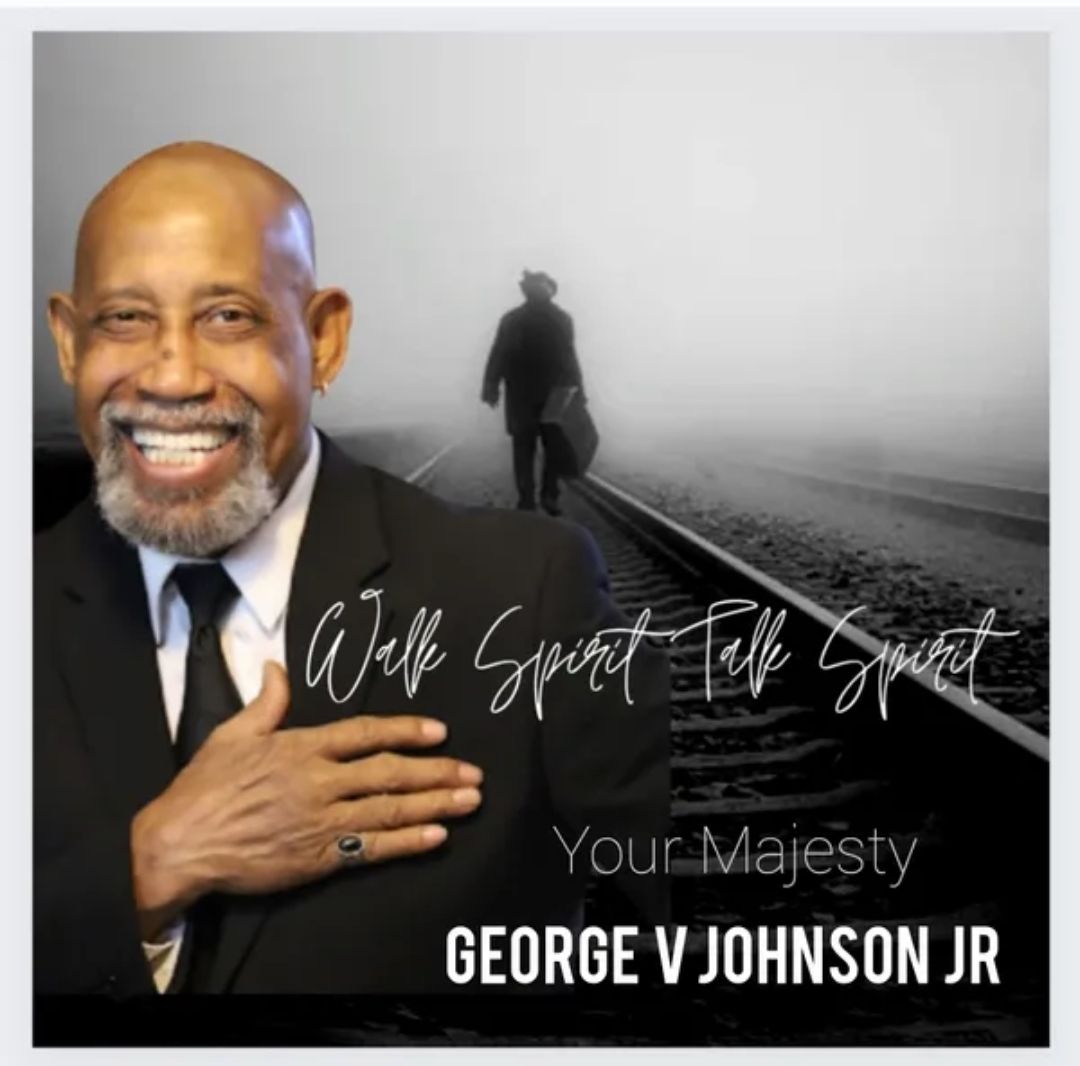 Walk Spirit Talk Spirit
Available On All Major Streaming Platforms